Five newborn baby clothes ideas
Nothing can indeed replace the softness of a mother's hand. However, babies can't stay in their mother's hands forever. To parents, babies are the precious little beings who have been gifted to them by God. So, parents always do whatever makes their babies safe, happy, and comfortable. You'll need a lot of different outfits to save your babies. The necessary outfits that will get you through the first few months with a newborn baby are baby kimonos, baby bodysuits, jumpsuits for nightwear, baby boomers, an infant sleeping bag, a couple of cotton hats, a few pairs ofbaby socks,and cardigans.
We all know that babies have susceptible skin. If we don't take good care of sensitive skin, it can result in rashes and spots. The biggest challenge newbie parents face is that they tend to overlook the importance of using good quality clothing for their babies. There are a couple of things that should be followed when you decide to buy clothes for your baby. Now let's discuss them one by one.
Type of material
Babies often require constant cleaning, and clothes need to be changed often too. Cotton clothing is very good at absorbing moisture. It is also soft to touch and gentle on your baby's skin. Cotton is made from natural plant fiber and is a very soft and absorbent fabric. People now prefer organic cotton clothing to normal cotton because it is hypoallergenic. Organic cotton clothing is good for the tender and sensitive skin of your baby.
Types of clothes
Babies have different needs when it comes to clothing. So, they require many types of clothing to fulfill those needs. The few essentials that need to be in your baby's wardrobe are the following items -rompers, baby socks, bodysuits, footed pants, burp cloths, bibs, nappies, washcloths, towels, etc.
Avoid synthetic clothes
You should always avoid synthetic materials as they could harm the sensitive and soft skin of your baby. Synthetic materials have lots of chemicals in them. They are also abrasive and non-absorbent. They are known to chafe the baby's tender skin. So, it would be best if you avoided synthetic clothes for your babies.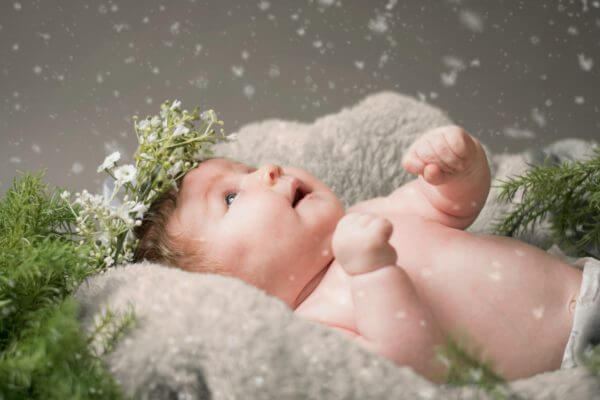 Newborn Baby Clothes Ideas
Newborns require a neat and hygienic wardrobe. Clothing for babies is not meant only to cover them. Clothes should protect them from current pandemic situations. Their clothes should be comfortable and soft without any irritation. It should possess some values which should aid newborns in growth and feel fresh while wearing them. Five best newborn baby clothes ideas are discussed in this article in the following section.
Newborn Baby Bodysuits 
It is a whole ensemble. Bodysuits for babies are a must-have for your baby's wardrobe. They are a popular shower present. Bodysuits have a variety of sizes that can help you keep up with your baby's rapid growth. Fortunately, several manufacturers provide multi-packs of baby bodysuits at a reasonable price. It's convenient to mix and match a variety of solid colors and print bodysuits. Regardless of their designs, opt for baby bodysuits with envelope-style necks. The charming tiny flaps on the shoulders have an essential function. They allow you to slip the bodysuit down over the baby's chest and legs instead of up over the head after a large diaper leak for a more hygienic outfit change.
Newborn Baby Rompers
Baby rompers are both adorable and functional. They are the most delicate baby clothes. A baby romper, also known as a one-piece or bubble. It is a top and bottom that generally has snaps at the crotch for quick diaper changes. Not only are there fewer articles of clothing to put on a squirmy infant with rompers, but they are also more comfortable. However, they are frequently available in colorful and fashion-forward styles. This makes them great for playdates, family events, and picture sessions. For a charming warm-weather appearance, a newborn romper may be worn over a bodysuit or on its own.
Newborn Baby Kimonos
Baby shirts in the kimono design are essential in your baby's wardrobe. These loose t-shirts with side snaps or ties are not only adorable, but they also protect a newborn's still-sensitive umbilical cord stump. In addition, these shirts that don't have to be pulled over your baby's face might be a lifesaver when you and your baby are still getting acclimated to clothing. These short- and long-sleeved newborn baby clothes may be worn as a top or a thin sweater over a bodysuit.
Newborn Baby Bloomers
Baby boomers are next on our list of the finest infant clothes ideas. You could get away with not wearing bloomers if you wanted to, but why would you like to? Bloomers, also known as diaper, covers. They are a cute item of newborn clothing that may be useful whether you have a boy or a girl. Wear them alone or layered over bodysuit, leggings, or tights. If you are arranging a newborn picture shoot, baby boomers on their own are highly adorable. Many bloomers include lovely patterns and frills. If you want a more minimalist look, you may also get plain bloomers. Boomers don't have to match the rest of the baby's clothing precisely. They combine solid colors for the fun appearance of your baby.
Newborn Baby Socks
The next necessities on our list of the finest newborn clothing ideas are newborn baby socks, tiny but formidable. Consider baby socks to be miniature climate controls. They are having lots of socks on hand. Regardless of what month your baby was born, it makes it simple to keep those little feet toasty, whether it's chilly outside or frigid inside, owing to blasting AC. Even if the baby is only wearing a bodysuit, baby socks can turn anything into an outfit. Babies are known for kicking their socks off, so seek alternatives with elastic solid tops. Buy many packets of the same color or design so that if one goes missing, it won't be an emergency. After all, it's difficult to keep track of such tiny socks.