The Ramzi Theory
---
"It's the question in most mom's minds from the moment they see those two lines,"
- When will I know the gender?
Now widely known because of his early gender prediction method, Dr. Ramzi directed multiple studies in which the relationship between placenta location and gender was the focus. In the controlled group studies, he discovered that he could determine male fetuses with 97.5% accuracy and female fetuses with 97.2%.
By tracking the chorionic villi, also known as the future placenta, he gave the world a tool to very accurately reveal the gender of a baby at just 5 weeks of gestation. Although Dr. Ramzi's theory isn't 100% accurate, and there are multiple instances where the placenta is in a tricky spot, we believe a theory that is up to 97.5% accurate is a great foundation for a gender prediction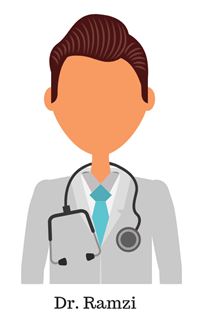 Why do I need professionals?
Because you can't believe everything you read online! There are several crucial aspects of Ramzi theory that need an expert eye. Detecting areas of growth and knowing when an images is mirrored are two of the most important ones. Do you know when to flip? This seems to be a hot topic when it comes to Ramzi theory. The general rule of thumb seems to be that if an image was taken abdominally it will be a mirrored image, but if it is taken internally it is true to side, and although that might be the case for some images, we do not believe this is a one-size-fits-all solution. Baby Gender Pros believes that each scan should be looked at individually and look for markers. We have an extensive background in early gender prediction and are dedicated to providing new moms-to-be with the best experience possible.
What else should I know?
There is plenty to learn about this theory! Perhaps one of the most important factors to obtain a correct prediction is the gestational age of when the image was taken. Ramzi is most accurate between the 6th and 8th week of pregnancy. Although placenta placement can be located at any point in pregnancy, it is most accurate early on because as the uterus expands the placenta moves, diminishing the chances of an accurate prediction.
In addition, sometimes the images are too zoomed out for the chorionic area to be visible, or the technician might have the brightness too high for us to see properly. The scanning plane of the ultrasound is also important. A transverse scanning plane is necessary for an accurate Ramzi predition. There are two other scanning planes, sagital (as if you were looking at someone from their side), and coronal (as if yuo were seeing someone face to face), but transverse is the only place that shows you the body as if seen from above and good for gender determination.
Baby Gender Pros
Average rating:
27 reviews
Jul 18, 2019
This works Great!
Excellent!

-from Australia!
Jul 18, 2019
Accurate! Will try again
At 7 1/2 weeks i tried the Ramzi method and wasnt sure if i was reading it correctly so I spend under $10 to send it in to a professional. They confirmed it was a girl! I wasn't too certain so i went to a professional @16 weeks and she confirmed it was a girl! Im pregnant again and will definitely try this method again.
Jul 2, 2019
Amazing!!
Got my results fast and they were correct!! I confirmed with NIPT panorama and it was indeed the same gender! Thank you guys! ...please remember that this is not for everyone and its meant to be fun
Jun 29, 2019
Placenta and Nub test were correct!
We are expecting a baby girl. At 8 weeks I did the "placenta" test came out with girl and at 12 weeks I did the Nub test and as well came out as girl. So both were definitely correct
We are so glad our Ramzi and Nub prediction was correct for you! Congratulations!
Jun 27, 2019
They were correct
I was predicted to have a girl from my 8 weeks & 2 days ultrasound.
THEY WERE RIGHT!!! ITS A GIRL
Jun 27, 2019
Boy and girl! You got our twins right! Thank you!
Jun 25, 2019
Exciting
Prediction I got was baby boy 💙
My partner thinks it's a boy and I think girl.. So needless to. Say I was quite shocked with my prediction will update in a few weeks when I get my gender scan 💙
Jun 20, 2019
So fun!!
I loved sharing the results with my family and seeing that you were right at out gender reveal! Definitely recommend!!
Jun 19, 2019
It's true
It's predicted corrctely.. it's a boy.
Jun 19, 2019
Ramzi
It's a BOY!!! Thank you so much for your prediction! I've felt so bonded from 6 weeks since I got your prediction. Thank you so so much.
Jun 17, 2019
BLUE for me!
Got mine results in less than 30 minutes! We loved opening it up together and excited to find out it it was correct in 3 weeks!
Thank you!
Jun 14, 2019
Thank you!!!
I am over the moon about the prediction being correct. thank you so much!
Jun 4, 2019
Thank you!
You were right! 14 week ultrasound confirmed what you told me at 6 and 12 weeks! We are having our fourth girl! I wish I had known about this website for my other pregnancies.
Jun 2, 2019
After hearing my sisters rave about this service I submitted my 7 week ultrasound and got my boy prediction within an hour! 4 weeks later it's confirmed we are having our second boy! Thank you!
Jun 1, 2019
I am telling all my friends about it!
Even my doctor was impressed when I showed him the report that I received! Definitely having a little boy and I've known since 7 weeks!
May 25, 2019
My dreams have come true!
I thought the nub was very flat but they told me they could see a developing penis and they were right! Thank you for preparing me for this third boy before my Ob even did!
May 23, 2019
Best Service Ever!
After two boys I desperately wanted a girl and your prediction made me so excited!! Getting all three theories with high accuracy saying it was a little girl helped the waiting go by much faster
May 20, 2019
thanks!
Thank you! It's Correct! I am SWOON! Very impressed with the service and professionalism! I really wanted a girl but the moment I saw that boy prediction and their detailed report, I know it would be a boy. Little Liam is the light of my life now!
May 13, 2019
I'm very happy
I submitted my 8 week transvaginal ultrasound and the experts said I would have a boy. Genetic tests say that it's a boy! I'm very happy!
Apr 10, 2019
Thank you!
We just had our 20 week scan and you were right! Everyone else said Boy,  but I knew  it was a girl! Thank you!