The Ramzi Theory
---
"It's the question in most mom's minds from the moment they see those two lines,"
- When will I know the gender?
What is the Ramzi Theory?
---
Now widely known because of his early gender prediction method, Dr. Ramzi directed multiple studies in which the relationship between placenta location and gender was the focus. In the controlled group studies, he discovered that he could determine male fetuses with 97.5% accuracy and female fetuses with 97.2%.
How accurate is Ramzy Theory?
---
By tracking the chorionic villi, also known as the future placenta, he gave the world a tool to very accurately reveal the gender of a baby at just 5 weeks of gestation. Although Dr. Ramzi's theory isn't 100% accurate, and there are multiple instances where the placenta is in a tricky spot, we believe a theory that is up to 97.5% accurate is a great foundation for a gender prediction
Why do I need professionals?
Because you can't believe everything you read online! There are several crucial aspects of this gender prediction based on placental positionthat need an expert eye. Detecting areas of growth and knowing when an images is mirrored are two of the most important ones. Do you know when to flip? This seems to be a hot topic when it comes to Ramzi theory. The general rule of thumb seems to be that if it is an abdominal ultrasound it will be a mirrored image, but if it is taken internally it is true to side, and although that might be the case for some images, we do not believe this is a one-size-fits-all solution. Baby Gender Pros believes that each scan should be looked at individually and look for markers. We have an extensive background in early gender prediction and are dedicated to providing new moms-to-be with the best experience possible.
What else should I know about Ramzi Method?
There is plenty to learn about this theory! Perhaps one of the most important factors to obtain a correct prediction is the gestational age of when the image was taken. Ramzi method is most accurate between the 6th and 8th week of pregnancy. Although placenta placement can be located at any point in pregnancy, it is most accurate early on because as the uterus expands the placenta moves, diminishing the chances of an accurate prediction.
In addition, sometimes the images are too zoomed out for the chorionic area to be visible, or the technician might have the brightness too high for us to see properly. The scanning plane of the ultrasound is also important. A transverse scanning plane is necessary for an accurate Ramzi method prediction. There are two other scanning planes, sagital (as if you were looking at someone from their side), and coronal (as if you were seeing someone face to face), but transvaginal ultrasound is the only place that shows you the body as if seen from above and good for gender determination.
Ramzi Theory Examples
Weekly Examples
Will it be a boy or a girl? This is probably the most exciting question pregnant moms have the moment they find out they are pregnant. Ramzi theory gender predictions are a great way to gain some insight into this matter from as early as your 6 week ultrasound. But is one week more accurate then the next? Let's see what the experts have to say.
5 week ultrasound
The accuracy on Ramzi theory at less than 6 weeks of pregnancy has not yet been studied. If you read our article on the Ramzi theory, you can find that the clinical study where the Ramzi theory was developed starting at just 6 weeks along. However, this is not to say that chorionic villi cannot be detected, say at 5 weeks and 4 days. If you have an ultrasound right before the 6 week mark, it is very possible that Ramzi theory accuracy will be the same as it is at 6 weeks.
6 week ultrasound
The official study consisted of over 5,000 expectant mothers that were between the 6th and 8th week of pregnancy. This makes a 6 week ultrasound a great candidate for an accurate gender prediction. Please note that being able to see the full gestational sac is very important for an accurate gender prediction.
7 week ultrasound
At this early stage in pregnancy, many women have already taken a pregnancy test but are still waiting for their first ultrasound. However, if an early ultrasound has been done, Ramzi theory at 7 weeks of pregnancy is accurate, and a mother will likely be able to see a yolk sac as well as the growing baby.
8 week ultrasound
The 8th week of pregnancy is when most women go in for their first pregnancy visit and have their first ultrasound! At this age, it should be easy to detect a heartbeat as well as possibly distinguish the head and rump of the baby. Ramzi theory accuracy is at its peak during the 8th week.
9 week ultrasound
Due to the controlled study only looking at women from 6-9weeks of pregnancy, anything after that is "unknown," however, we do know that every pregnancy is different and that every baby develops at a different speed. This means that the development of a baby at 9 weeks and 3 days might be the same as someone else's at 8 weeks and 6 days. We believe Ramzi theories are extremely accurate at 9 weeks of pregnancy.
10 week ultrasound
As previously stated, there is no evidence of the accuracy of the Ramzi theory at 10 weeks of pregnancy. At this stage, the yolk sac may no longer be visible, but you can still easily see which side the placenta is developing on. We believe 10 weeks is the last stage that the Ramzi theory maintains a great deal of accuracy.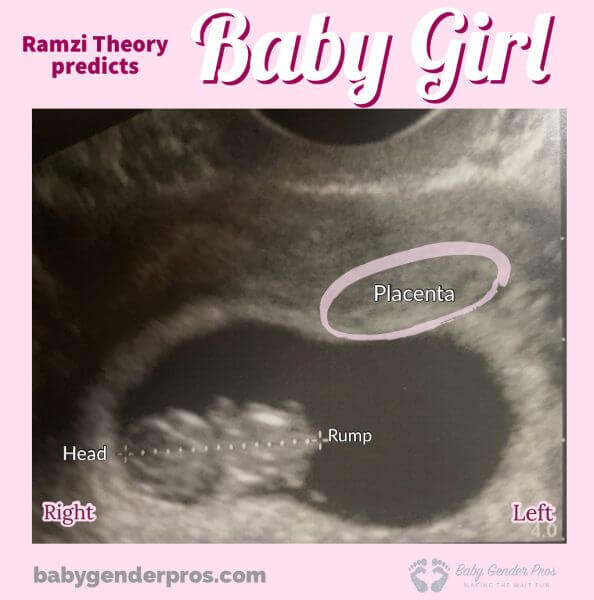 11 week ultrasound
Nearing the second trimester, this week of pregnancy is able to show us good skull structure and the beginnings of a genital tubercle. This means that, although the accuracy of the Ramzi theory at 11 weeks is not high, we are able to combine it with other gender prediction methods like nub and skull.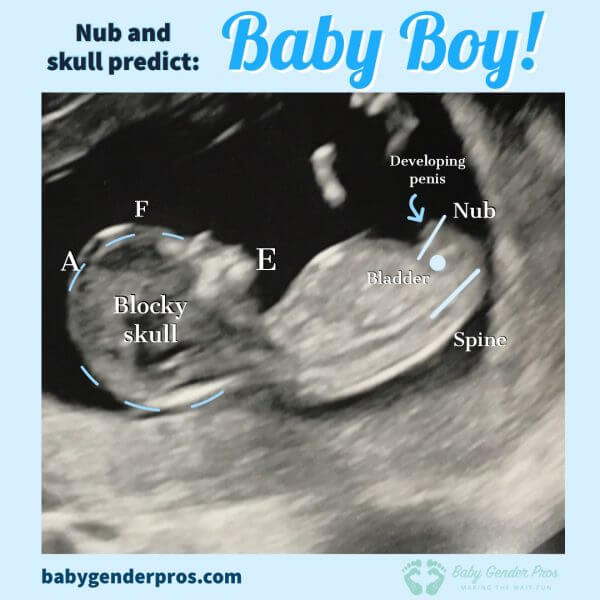 12 week ultrasound
As the uterus grows to fit the growing baby, the side on which the placenta started developing may no longer be clear. However, a 12 week ultrasound is the start of high accuracy for a nub prediction! Learn more about
this theory
that can predict the gender of your baby 99% at only 12 weeks.
---
Other gender prediction theories
---
---
From 11 weeks
---
This early gender prediction theory focuses on the angle on the nub in comparison to the spine. It is sientifically proven and in controlled groups up to 98 to 100% accurate.
---
From 11 weeks
---
This early gender prediction theory uses skull marker to differentiate male and female babies. Although no studies have been conducted, this DIY gender prediction has been claimed to be up to 92% accurate.
Ramzi Theory
Average rating:
133 reviews
Jan 13, 2021
Ramzi & Nub theory done!!
Baby Gender Pros did Ramzi and Nub theory on my scans. My nub scan didn't look like a very good nub shot to me but both scans they said girl and explained why they thought so. Was confirmed I am in fact having my first baby girl. 🥰
Jan 11, 2021
It's A Girl
I submitted my ultrasound to the gender pros on October 7th.. The prediction came back a girl and it was correct! We are having a healthy baby girl! They responded back with the prediction pretty quickly! Great experience!
Jan 9, 2021
Got my results back & Ramzi theory said Boy
I got my finger crossed was shocked that's you said it a Boy this pregnancy feels different than with my twin girls I'm hoping is correct and I send you my 12 week scan for skull and Ramzi Theory and y'all said boy I would keep you updated when I find out next month finger cross🤞🏽
Jan 5, 2021
Baby Boy Prediction
Predicted baby boy, but it is actually a confirmed baby girl 💕 Was fun guessing though! Thank you.
Jan 1, 2021
Its a girl
Sent my 7week 4day scan off and was told girl. Have sent a few more scans of my friends baby, im quite happy. Will let you know when its a definate confirm of sex
Oct 9, 2020
Spot on!
I had a NIPT a few weeks after my prediction abs you were correct it is going to be a girl!
Oct 6, 2020
Prediction baby girl
Very fast and quick response thank you
Predicted baby girl at 7 weeks and 4 days
Excited to find out 🙂
Oct 1, 2020
Predicted girl!
I have been anxiously awaiting the gender results since I became pregnant, my four year old son thinks it's a girl and I have felt it's a girl myself due to the complete differences in my pregnancies, and Gender Pros have predicted girl as well. I'm hoping to have one of each and to be one and done, they have definitely eased some anxiety regardless of accuracy. Thank you for your results!
Oct 1, 2020
BAby boy
Ramzi theory says.. i m having boy.. fingers crossed..
Sep 16, 2020
100% correct
Baby gender pros predicted we were having a boy from the Ramzi theory.
Got NIPT results back and were having a BOY!
Sep 8, 2020
wrong
Guessed girl and it's a boy. I told them it was transvaginal but they still flipped the image. Giving 4 stars because it's just for fun
Sep 1, 2020
Accurate
My 9th week blood test result is showing a Girl!
Aug 19, 2020
Ramzi theory
I just sent in my ultrasound and was told a girl! I will keep you all updated 😍
Aug 18, 2020
recommend
I had submitted 8 weeks transvaginal scan copy, they predicted girl,
I got my Nipt result and got its girl.
Recommended!
Aug 11, 2020
Ramzi Theory
Fantastic customer service but they guessed boy for me and just found out it's a girl 🙂
Aug 9, 2020
Wrong for me!
I submitted an ultrasound clip at 10 weeks for the Ramzi theory prediction. They replied super quick, which was nice, and told me a boy.... but blood testing through my OB clinic has confirmed a baby girl! Still fun 🤷🏼‍♀️
Jul 29, 2020
Ramzi theory
Omg how beautiful I did the Ramzi theory at only 11 weeks . You said I would have a girl based off the image I sent of my ultrasound. I happy to say you where correct , I am having a baby girl and this will make my 3rd child only girl so I'm super excited and would recommend this to any future friends or family member who would like to try .
Jul 29, 2020
They were right!!!
They were right... I am having a girl. I sent them.a 7 week ultrasound and they guessed girl. They were right... confirmes at 12 weeks through bloodtest
Jul 20, 2020
Ramzi Theory was Accurate!
I submitted my first 8 week ultrasound in and within a day I received results back via email predicting it was a boy based off the Ramzi Theory. I just received my bloodwork results from the hospital today which confirmed our baby is in fact a boy!! We couldn't be more excited and it was a super fun experience doing the Ramzi Theory prediction.
Jul 18, 2020
Ramzi Theory & Nub Theory
I submitted my 8 week scan for the Ramzi theory and my 12 week scan for the nub theory and they both predicted girl. We found out at 20 weeks we're having a girl!