"Such a fun, simple way to get clues of the gender!"
- Happy mama.
What is the Skull theory gender prediction?
---
As many other bone structures, the skull theory boy and the skull theory girl have certain characteristics that can help gender determination at an early gestational age. Although there isn't much research on baby skull as it relates to gender determination to back this theory, there is research on the difference in skull structure in children and adults. Using the following markers is thought to be up to 92% accurate at determining gender from 10 weeks of gestation and beyond.
Skull theory examples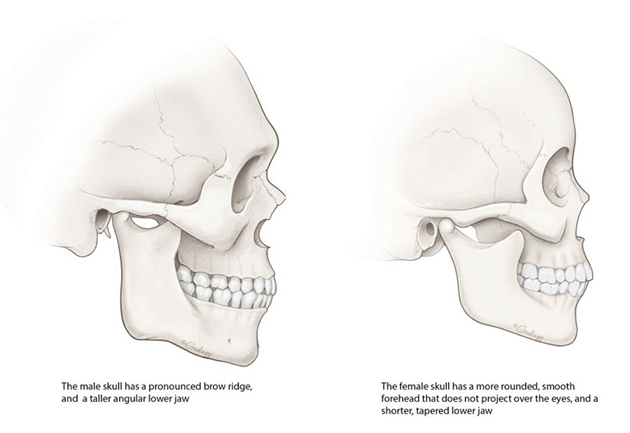 Skull theory gender guidelines
---
For Skull theory gender prediction, Baby Gender Pros uses the following guidelines:
A) The male cranial mass is more blockyand massive compared to the females, which is rounder and tapers at the top.
B) Temporal Ridge – this runs along the outer side of the upper skull creating the square shaped of the upper head. More prominent in men than women.
C) A woman's supraorbital margin (the ridge above the eyes) is sharper, while the males is round and dull.
D) The Zygomatic bone (the cheekbone that lies under the lower eye ridge) is more pronounced on the male skull.
E) The Mandible (lower jaw) bone of a woman is rounded, while the male's is squared.
F) Frontal bone forehead structure terminates at the brow. The male forehead is lower and more sloping.
G) Men have a deeper cranial mass.
H) The supercilary arch is large and pronounced in the man.
I) A males gonion (most posterior inferior point on angle of mandible) is more flared out and sharply angled.
J) The teeth of men tend to be larger.
Other gender prediction theories
---
---
Between 6 and 10 weeks
---
This baby gender prediction method uses the location of the placenta in early weeks of pregnancy to predict the gender of the baby. In controlled groups this method has been 97.5% accurate.
---
From 11 weeks
---
This early gender prediction theory focuses on the angle on the nub in comparison to the spine. It is sientifically proven and in controlled groups up to 98 to 100% accurate.
The Skull Theory
Average rating:
33 reviews
Jan 13, 2021
Ramzi nub skull theorie
Both theories predicted a girl. I have the results from the NIPT and it's a girl !! So happy
Jan 12, 2021
Gender
You guys were right for me for skull theory. We found out today I am having a girl:)
Sep 18, 2020
Fun but not correct
For a bit of fun it was interesting to see their thoughts. I was predicted girl on both Ramzi and Skull theory. Had it confirmed a boy though! Don't mind either way and it was just for a bit of fun! Would still recommend but take with a pinch of salt!
Sep 10, 2020
It said both
The ramzi theory said boy and the skull and nub theory say girl. Guess we will find out on his/her birthday, won't be confirming by ultrasound. .
Sep 1, 2020
Nub and Skull theory
Ok, you predict I'm having a girl. We'll see when my blood test comes in. I'll let you know if you were right! 😊
Aug 28, 2020
Great service! Very happy to find you ❤️
Jul 3, 2020
You guessed a boy
I sent my 14 week scan and you said it was a boy by the skull theory, I've just had a gender scan at 16 weeks and it's a BOY!l
Jun 10, 2020
It said both
I sent my scan of 6 weeks for the Ramzi method which said girl however since then I sent my 12 week scan in for the skull and nub theory which said boy.
May 28, 2020
Baby girl
Had a 20 weeks scan today and you were absolutely right I am having a baby girl 🙏❤️Thanks
Apr 8, 2020
They were right
Sent in a 12w ultrasound pic they guessed a girl a week later the dr confirmed
Mar 28, 2020
Accurate
Submitted my 12wk ultrasound. Skull theory was correct
Mar 18, 2020
correct
Gender pros said it was a boy but we are blessed with a baby boyl did the maternity 21 blood work said it's a boy
Feb 24, 2020
Love!
Loved this. I'm still shook that it's correct, thank you!
Feb 22, 2020
Ramzi boy
My wife is happy so thank you
Feb 20, 2020
Skull girl
Bummed the nub wasn't visible but the skull still said girl and it's correct.
Feb 15, 2020
Dang
I never thought you'd guess right at 6 weeks. Good job
Feb 14, 2020
Boys!
Our twin boys are confirmed! Thank you for letting us get mentally prepared! Great service!
Feb 10, 2020
Ramzi girl
So thrilled for our girl. You were right
Feb 6, 2020
Bonding
I loved this. It helped me bind with baby until our 20 week ultrasound.
Thank you!
Feb 4, 2020
4/4
I keep reading it's 50/50 chance that you are right but you've been 100% right with all 4 of my kids so I call Bs! Lol